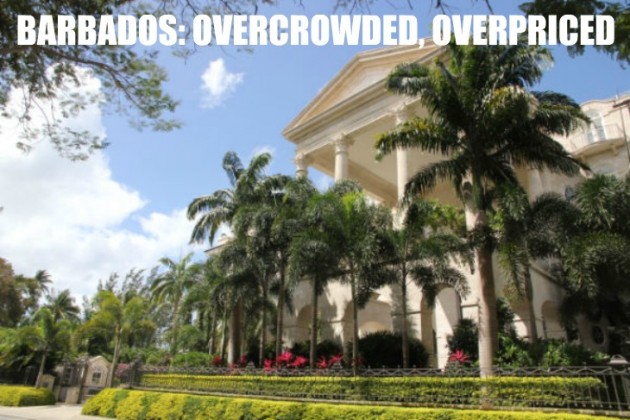 "Something disturbing is happening on Barbados – the Caribbean experience is being drowned in a tsunami of greed and gravel. With tax dodgers, celebrities, footballers and bloated businessmen all flocking to the island prices have soared. Even my rich friend Lady Carol Parsons complains.
Once I used to think to myself "oh just relax and put it on the plastic, after all you are on holiday". I do mean literally once. That occasion was when a meal for 5 at the Lonestar came to £650 and I was paying. After that I was more careful. If someone said that Villa Rosa or Chin Chin were the latest places to eat, I would be sure to avoid them.
The turning point came about 10 years ago when property started to boom, and especially on the West Coast around Holetown, originally developed by the likes of the Guinness and Cunard families. This was The Place To Be. Now it is jam packed with mansions from end to end. The latest is One Sandy Lane, a sort of beachside British Museum opposite the famous Sandy Lane golf course and Barbados's answer to One Hyde Park, that Qatari monstrosity near Harrods in London..."
Read more:
Barbados: Don't Bother, Frankly
.